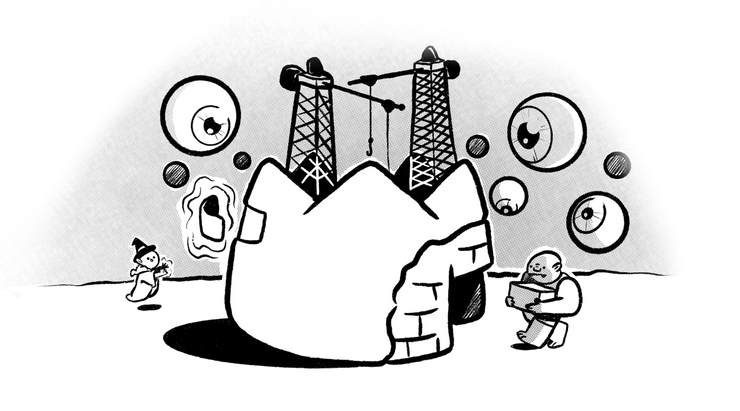 01 - Building in Public
---
Dear Investors,
You've probably realized by now that we have an audience. That's right, investor updates moving forward will be public. There's no question of how the sausage is made because we're making it in a glass room. We're in the room, you're in the room, and everyone else? They're smudging up the glass with their greasy digital hands. If Twitter is any indicator, some of them are licking the glass too.
I know what you're thinking — I'm pushing this analogy way too far, and also, why would we want all these 'normies' seeing our fancy rich guy newsletter?
The Times They Are A-Changin'
Come mothers and fathers throughout the land And don't criticize what you can't understand Your sons and your daughters are beyond your command Your old road is rapidly aging Please get out of the new one if you can't lend your hand For the times, they are a-changin'
Entrepreneurs today need to contend with an issue that is, in many cases, new territory for startups. A crisis of trust. Globally, only 22% of people trust business leaders. 40–50% of people believed those in tech would take advantage of respondents if they were able. Of course, it's not just trust in business that's waning. Our trust in government and even each other is at an all-time low. If you'd like a nervous laugh, go ahead and take a peek at QAnons failed predictions.
A new breed of celebrity is being born on Twitch, Youtube, and Tiktok. They feel more personal, the production quality is lower, and they talk to you like they'd talk to a friend. Even the traditional celebrities replicating it now, and of course, so too are some entrepreneurs.
A shift is happening, and early-stage companies need to become less corporate and more personable, they need to be building communities that they're actively participating in. Or maybe I'm just a huge narcissist and this is how I validate not conforming to being a professional. It's a bit of a coin flip.
You invested because we're building innovative shit that helps people making a living doing what they love. We're not trying to be a little bit better than what's been done before, I want to instead solve common struggles in novel, unique ways. I want to stay weird and original. Sometimes we're going to absolutely knock it out of the park. Other times? We'll have done little other than dropped the sausage on the cold linoleum floor. Okay, that's the last sausage reference. That one was the wurst yet.
But what if things go wrong? Building in public is great when you're succeeding, wouldn't it be terrible if things aren't working like you've expected?
Loosen up, you don't have to kill it every month. I want our users to see both sides. If you've ever been a part of an open-source community, this will make so much more sense to you. If there's one thing Brian O'Malley has drilled into me, it's that business is a marathon. It's about consistency. It's okay to struggle sometimes… it's normal! Sometimes it's cool to build things for the sake of building things. The internet was once our playground! If we'd all stop pretending we're so damn smart and successful all the time, I think maybe we could make the internet fun and weird again.
Could our competitors read this and use it to their advantage. Yes, of course! Who cares? Hell, I hope they take our ideas and make them better! Saves us some time on iteration while we're working on the next thing. I also couldn't give a shit what Tech Twitter thinks… unless they love me — in which case, Hello Tech Twitter, please make me your golden boy.
Here's the thing, we're asking some of the most skilled individuals on the planet to trust us to be the backbone of their business. I consider myself just as accountable to them as I do to you, my beloved investors. I want them to understand how we're running the business and why we're making the decisions we're making.I hope more founders decide to do the same. For those that do, email me and I'll feature them here next month.
About Last Month
Let's start with the big news, we've raised another round of funding! We decided on a seed extension after toying with the idea of a larger Series A. The extension felt better and easier, and after hearing about Justin Zhu, we realized we probably didn't need to raise so much, or rent a missile silo for our office.We raised $5.5mm at $32mm post-money. There it is, I said it. The valuation secret is out, now everybody knows! We'll target a more meaningful Series A near-term when we have better traction and more of the product built out.
Here are a few of the participants in the round:
We're primarily intending on using these funds for hiring, there's a whole lot of dope shit to be built and we're spread pretty thin as it is. We're also going to be experimenting with marketing and maybe toying with the idea of a few smaller acquisitions.
Core MetricsGrowth:
New Coaches: 52 (+24.3%)
New Students: 663 (+66.2%)
Sessions booked: 1214 (+65.6%)
GMV / Revenue: $76,615 / $3,830.75 (71%)
Cash in bank: $7,940,203.50Monthly burn: ~$90k
Product UpdatesWe launched Training Plans (we originally called them 'Lessons' and then changed it) a new way for coaches to offer structured learning around topics of their choosing. They offer a huge range of flexibility, so coaches can teach in a way that makes sense for them personally. Here's a video going over how Training Plans work.
Training Plans accounted for an increase of $15,750 in coach revenue for the month.
Additional updates and fixes:
Updated the design for the 'browse games' screen to make it easier to use.
Made it easier to schedule sessions longer than an hour by improving the duration and fixing a few scheduling bugs.
Updated design for password reset screen.
Enabled drag and drop for profile cover images.
We've increased the width of the settings modals to make them easier to use.
Fixed an issue preventing payments with a decimal number.
Stopped mobile gif selection from going crazy in chat.
Chat will now expand vertically as you type so that it's easier to send and edit long messages.
In May, we intend on tackling the following:
Increased flexibility for individual sessions (Preview)
Paypal support
A new version of the game page to better support many coaches (Preview)
Launch of our iOS app for coaches (Preview)
Greatly improving the student experience on-site (Preview)
What you can help with
We're hiring exceptional people, but I mean, who isn't? That said, our standards are indeed very high. I want individuals on our team who light up when they see an incredible solution to a hard problem. If you have someone in mind, have them take a look at our fancy new job page.The highest priority roles for us right now:
Those in need of thanksHighlighting those who made an extra effort last month to help us succeed.
Jeff Morris Jr. - On my first pass at this update, Jeff wasn't included in this section. How incredibly embarrassing. Nobody has done more for Metafy as a business than he has. We wouldn't be here if not for Product School, and I wouldn't be working alongside Forerunner, Anand, and Alexis if not for his introductions.
In April in particular, he's made introductions, took calls at unreasonable hours, and offered frequent advice and assurance. Thanks for being both a mentor and a friend.
That's all for this month
Thanks for taking the time to read this. If you enjoyed it, please send me a tweet at @joshfabian so I know it's worth continuing to do this. Okay, yes, subscribing would be more meaningful but I really need this validation, okay? Your undivided attention is the only thing that makes the feel-good juice in my brain activate.
See you next month.
Yours truly,
Josh.